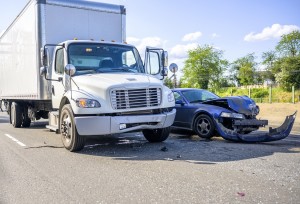 Fight For Compensation with the East Texas Truck Accident Attorneys at the Grant & Flanery Law Firm
Were you or a loved one involved in an 18-wheeler crash on the busy highways near Longview, Tyler, or elsewhere in East Texas?
Commercial truck accidents can result in catastrophic injuries, life-altering impairments, and in many cases, death. That's why it's critical you understand your rights if you have been injured in an accident involving an 18-wheeler truck.
Compensation You Deserve After a Commercial Vehicle Accident
If you have been injured in an 18-wheeler accident near Longview, Tyler, or elsewhere in East Texas, you are rightfully entitled to a variety of compensation, including:
· Reimbursement for past and future wages
· Costs of repairing or replacing your vehicle, including costs for rental vehicles while your vehicle undergoes repair
· Reimbursement for doctor bills, prescription medications, physical therapy, and future care related to your truck accident injury
· Damages related to inappropriate truck driver content
· Compensation for damages related to emotional distress and physical pain related to your trucking accident injury
Partner with a Trucking Accident Attorney
With a knowledgeable 18-wheeler accident attorney on your side, we can review the details of your injury and determine the strength of your claim. Our team will investigate your trucking accident in detail and identify the parties responsible for your injury, then estimate your losses from the accident including medical care, lost income, and more. Then, we'll submit a claim to the appropriate parties for compensation that accurately reflects those losses.
Trucking companies are well-known for trying to settle for as little as possible – that's why it's best to partner with a team of skilled trucking accident attorneys near you that can help you pursue the compensation you need to continue living your life. Contact the 18-wheeler accident lawyers at the Grant & Flanery Law Firm today to schedule a consultation for your case.