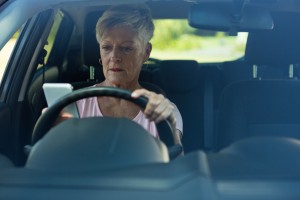 According to the Texas Department of Transportation, one in five automobile accidents involves a distracted driver. Because of the meteoric rise in modern technology drivers have access to in their vehicles, the appeal of sending a quick text is stronger than ever before. This leads to a higher rate of distracted driving and an increased risk to everyone on the roads of East Texas.
Texting while driving has become a severe threat on the roads of East Texas. Texting, like any other activity that pulls a driver's awareness away from the road, is part of an epidemic of distracted driving that leads to thousands of injuries and deaths every year. Drivers of other vehicles, their passengers, and pedestrians can be the victims of distracted, texting drivers.
The Texas Legislature has noticed this shocking trend and passed in 2017 a statewide ban on the use of texting, reading, or writing emails while driving. Some local areas have even stricter ordinances to completely ban the use of cell phones while driving to force drivers to act more responsibly behind the wheel. Unfortunately, many drivers continue to use their cell phones, leading to far too many accidents on the roads of East Texas.
What to Do When You Have Been Injured in an Accident Caused by a Distracted Driver
Victims of distracted driving accidents in East Texas need a highly qualified and experienced texting while driving accident attorney to work their case by questioning witnesses, obtaining cell phone records of the individual at fault, and other research to produce evidence to the court. At Grant & Flanery, we have years of experience winning cases against distracted drivers – we believe it's our duty to keep the roads of East Texas safe.
If you have been the victim of a texting while driving accident, you need the services of a distracted driving accident attorney in East Texas with the expertise to recover the funds you need to move on with your life. The expert attorneys at Grant & Flanery are ready to take your case, develop strategies to defeat the opposition, and secure a verdict that is in your best interests. Our legal team is equipped with a vast knowledge of prior case law concerning texting while driving accidents and knows the best course of action for ensuring victory in court. We'll file a lawsuit on your behalf and help you move on with your life after you have been injured by a distracted driver.
It's time to put a stop to the dangerous trend of texting while driving. Bring your case to the highly qualified auto accident injury attorneys in East Texas at Grant & Flanery. Contact our team today for a free initial consultation regarding your distracted driving accident case.