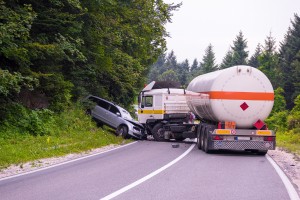 Most Common Truck Accident Injuries
According to a 2017 survey by the National Highway Transportation Safety Administration, the state of Texas ranks first across the United States for the most fatal automobile accidents involving trucks. This isn't the first year Texas has topped the list, either.
Truck accidents are caused by a wide number of factors, ranging from speeding to improper maintenance and ignored traffic regulations. The most striking number involved, however, is the distribution of fatalities. Only 18 percent of those killed in truck accidents were the occupants of the trucks themselves – the other 72 percent were occupants of other vehicles and nonoccupants like pedestrians and bicyclists.
This means that by sharing the road with trucks, you become more susceptible to driver negligence, poor vehicle maintenance, or potential issues with other drivers failing to maneuver properly around these commercial vehicles. Accidents do happen – and rarely when you expect them.
If you have been involved in a commercial truck accident and are lucky enough to still be alive, you may have suffered from a wide range of injuries. The most common injuries related to truck accidents include:
Fractured and broken bones
Burns
Disfigurement
Spinal cord injuries
Head injuries
Neck injuries
Traumatic brain injuries
Stress disorders/mental health issues
Because these trucks can weigh in excess of 80,000 pounds, the injuries they can cause to drivers they share the road with can be potentially catastrophic. Plus, the damages they cause to vehicles and roads is off the charts. That's why if you have been involved in a commercial truck accident, you should be aware of your options for compensation.
What to Do When You have Been Injured in a Commercial Truck Accident
The wisest course of action after you have been injured in a commercial truck accident in East Texas is to find proper legal representation. Even if you are uncertain as to whether or not you have a strong case against the driver of the truck or the company they represent, speaking with a knowledgeable truck accident attorney is a guaranteed way to ensure you get every ounce of compensation you deserve. Injuries caused by commercial truck accidents can be radically life-altering – physically, mentally, and financially. At the Grant & Flanery law firm, we have the knowledge and expertise to deal with trucking and insurance companies, and have an in-depth understanding of the law surrounding them.
We firmly believe that if you have suffered one of these all-too-common injuries after an automobile accident in East Texas involving an 18-wheeler truck, your case is worth fighting. Our goal is to restore your comfort and confidence by winning your personal injury case. For more information on how we can help you recover the maximum compensation after suffering an injury during a truck accident, contact a representative from the Grant & Flanery law firm today.